Fabrizio Cotognini, Acheropita
text ; Umberto Palestini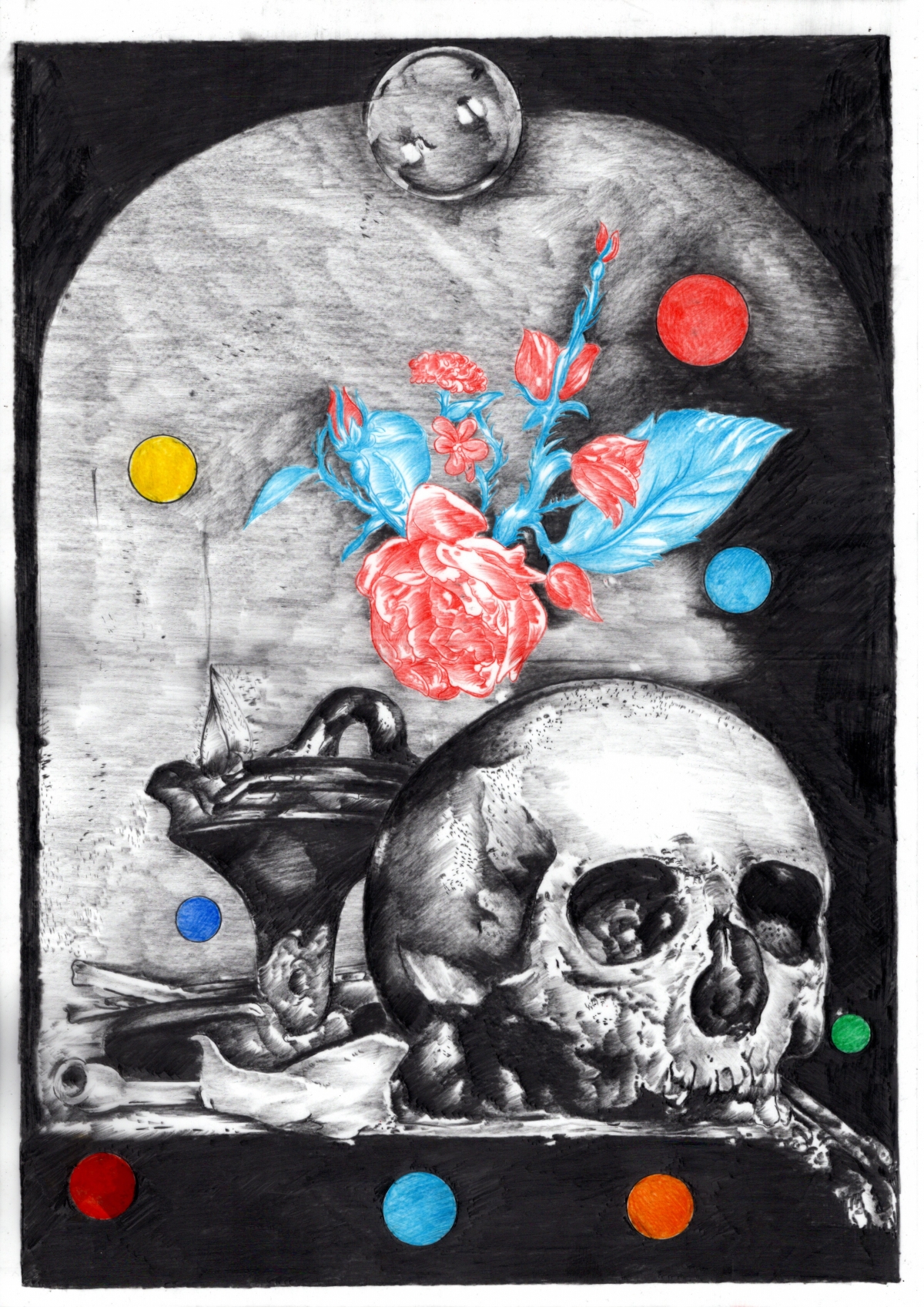 Fabrizio Cotognini's art is a mysterious flow of images, iconographic fragments conceived as secret relics, drawings inspired by the masterpieces of the past. Botanical renditions and precious flowers are lain out on a tapestry of well-known prints or trace lyrical constellations, creating a tainted, eccentric storyboard.
The artist becomes a sort of shaman who mixes visual elements emblematic of an artistic presence that has entered the imagination, inventing a personal archaeology in which the ancient is completely dismantled. In this process the citation and its sterile nostalgic baggage is denied and Cotognini allows us glimpse the individual coordinates of a suggestive, alchemic conception on the horizon. Despite frequenting antique shops in search of materials and objects that become the raw materials for many of his works the artist chooses to adopt an esoteric vision with which to investigate the mysterious perspectives that govern the world of secrets, rather than an antiquarian practice.
At Urbino's Palazzo Ducale Cotognini could not miss the extraordinary opportunity to compare himself with the well-known artist Paolo Uccello, and one of his most important works: the Miracle of the Profaned Host, which is part of this temple of art's permanent collection. Two sculptures portray the Jewish couple that acquired the host and were tragically executed together with their children. In order to recall the dais, which has a narrative and formal pattern very dear to the artist, he chooses – in a conceptual shift – two three-dimensional works, paying homage to one of art history's great masters of perspective. A series of monumental and minimal shrines surround and host a sequence of drawings, graphic works and sketches on acetate superimposed on images. A poetic process built on linguistic contaminations as well as pure, rigorous, beautifully executed drawings, a testimony to the thorough research of a well prepared artist, bewitched by the ancient world but capable of reviving it and drawing it out of oblivion.
The magic that Cotognini manages to create lies in his ability to not close himself in a claustrophobic bygone space but to embrace the multiform and happy domain of eclecticism where images shine with new life, reminding us how essential, dynamic and precious our past is. The artist realizes poetic, miraculous images; it is almost as if they had not been made by human hands: acheiropoieta.