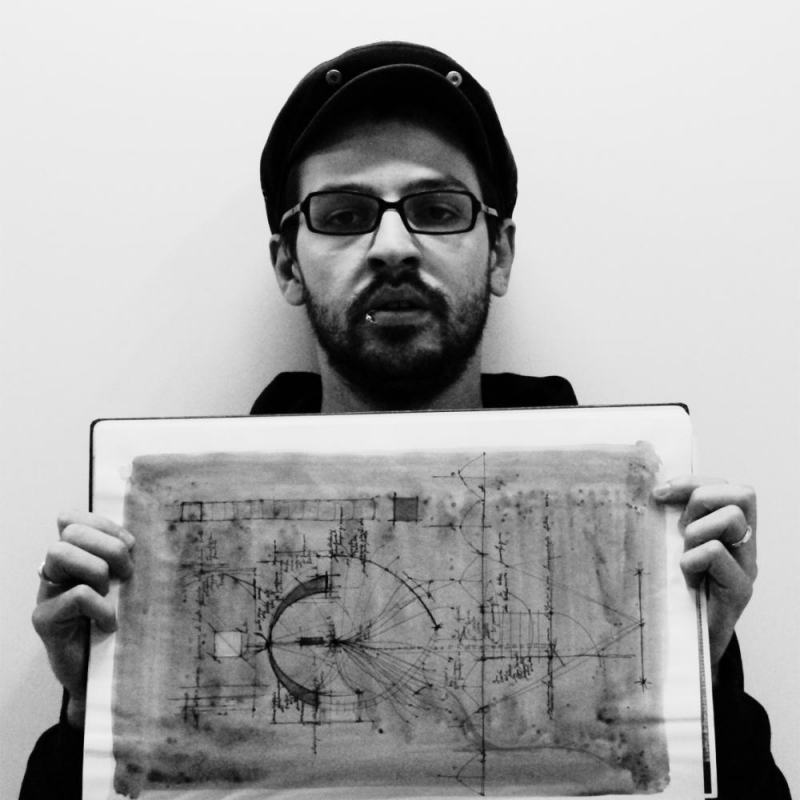 Biografia
Fabrizio cotognini was born in Macerata in 1983, lives and works in Civitanova Marche.
Graduated from the Academy of Fine Arts in Macerata in Painting and Sculpture in 2009, she has participated in numerous exhibitions.
Characterized by a constant reference to the ancient revisited in a contemporary way and the use of the preferred design, the key element of a search that also makes use of the possibilities of new media, the work of Fabrizio cotognini catch inside various archaeological horizon declinations historical and artistic. Time, memory and history are, in his research, majestic figures, flipped, distorted or bent into a stage set tended to suspend stability. It is a discourse in which the bride word the picture in a close dialogue between sign, drawing and writing that becomes a place of contemplation and, at the same time, the reflective concentration. But also apparent - and only apparent - a side note reminiscent of the intimate delights of an ancient book. Even a thumbnail or a rare late-Gothic decoration that reveals the scrupulous attention to every single detail.
Personali | solo shows
Solo show:
-The Flying Dutchman, curated by Riccardo Tonti Bandini, Museo Palazzo Buonaccorsi, Macerata, 2021
-Look around you, cn you see?, on line show with Prometeogallery di Ida Pisani, 2020
-should be higher, teatro anatomico archiginnasio Bologna, curated by do ut do, Bologna, 2019
-Acheropita, Palazzo Ducale Urbino, curated by Umberto Palestini, 2019
-Reversed Theatre, Fondazione Sandretto Re rebaudengo, Torino, curated by Lorenzo Benedetti, 13 september - 4 November 2018
-Is a Question of time, Museo Archeologico di Potenza cureted by Lorenzo Benedetti 15 dicembre 2016
- Pillow book, the Arthur & Janet C. Ross Library at the American Academy in Rome.curated by Peter Benson Miller, 2016
- Havel havalim, PrometeoGallery by Ida Pisani, Milan, 2014
- Tempo Imperfetto, Water, curated by Antonello Tolve e Stefania Zuliani, Museo archeologico Salerno
- Silence a Giorgio, curated by Manuela Valentini, mediterranea 16, Mole Vanvitelliana, Ancona, 2013 -
- Contaminazioni, curated by Ivano Quintavalle, Pinacoteca Palazzo Lazzarini, Morrovalle (Mc), 2011

Collettive | group shows
2023
- Io Amo Te, curated by Umberto Palestini, Casa natale di Raffello Sanzio, Urbino, Italy
-Animal Symbolicum, text by Giuliana Benassi, Galleria Nicola Pedana, Caserta, Italy
- In purissimo azzurro, curated by Antonello Tolve, Casa Leopardi, Recanati, Italy
-ArtVerona, with Prometeogallery of Ida Pisani, Verona, Italy- - In purissimo azzurro, curated by Antonello Tolve, Casa Leopardi, Recanati, Italy
- LULLABIES Curated by Manuela Pereira and Gabriel Rolt, - LA OFICINA BARCELLONA, Spain,
-Miart, with Prometeogallery of Ida Pisani, Milano, Italy-
-Artefiera, with Prometeo gallery of Ida Pisani, Bologna, Italy
- Io Amo Te, curated by Umberto Palestini, Arca, Teramo, Italy
-Miart, with Prometeo gallery, Milan, Italy
-Riportando tutto a casa, curated by Lorenzo Madaro, Museo delle Navi di Roma, Italy
2022
-Up Cycle, curated by Antonello Tolve e Silvio Mignano, Berna , Switzerland
-Artefiera, with Prometeo gallery of Ida Pisani, Bologna, Italy
- Ore d'Oro, curated by Federica Maria Giallombardo, biblioteca reale Torino, Italy
-Jumelles Culturelles, curated by Simona Cardinali, Muse du Chàteau de Mayenne, Mayenne, France
-Buona Fortuna Ribelli, Collezione Scarzella, redidenza Dogliani, Cuneo, Italy
- Intemporale, group show curated by Carlo Sala at Prometeo gallery, Milan, Italy
-Art Verona, with Prometeo gallery of Ida Pisani, Verona, Italy
-Artissima 2022, with Prometeo gallery of Ida Pisani, Turin, Italy
-Lullabies, curated by Gabriel Rolt e Manuela Pereira, La Oficina, Barcellona, Spain
2021
-Pressure, curated by Umberto Palestini, centro per l'arte contemporanea Arca, Teramo, Italy
-Miart, with Prometeo gallery of Ida Pisani, Milano, Italy
-Investec Capetown art fair, with Prometeo gallery of Ida Pisani, Cape TOwn, South Africa
-Artefiera, with Prometeo gallery of Ida Pisani, Bologna, Italy
-Arte in Nuvola, with Prometeo gallery of Ida Pisani, Roma, Italy
-Orizzonti del Corpo, curated By Marina Dacci, Palazzo Magnani, Reggio Emilia, Italy
- Refolded, percorsi meta-artistici, curated by Luiss master of art, Pastificio Cerere, Roma, Italy
- Salvi, Curated by Riccardo Tonti Bandini, Palazzo degli Scalzi, Sassoferrato
- Carta Bianca, una nuova storia, curated by Valentina Ciarallo, Museo Gigi Guadagnucci Villa della Rinchiostrata, Massa, Italy
-Artissima 2021, with Prometeo gallery of Ida Pisani, Turin, Italy
2020
- A volte penso che... , ex chiesa di San Matteo, Lucca
-Arte fiera Bologna, Prometeo gllery di Ida Pisani, Bologna
-Art Rotterdam, HE.RO gallery, Rotterdam
-Miart 2020, with Prometeo gallery of Ida Pisani, Milan, Italy
- Investec Cape Town art fair, Prometeo gallery di Ida Pisani, Cape Town
-Artissima 2020, with Prometeo gallery of Ida Pisani, Turin, Italy
2019
-Passing, Prometeo gallery di Ida Pisani, Miami, USA
-La potenza dell'arte contemporanea, curated by Lorenzo Benedetti, pinacoteca civica Potenza
-Heavenly creatures strategis of being and seing, curated by alessandro romanini, kunstalle west (BZ)
-Heroes, curated by Gabriel Rolt, hero gallery Amsterdam
-Kronos e Kairos, curated by Lorenzo benedetti, parco del Palatino e fori imperiali, Roma
-Men only men simply men, curated by Antonello Tolve, gaba.mc, Macerata
-Demons in a line, curated by Alessandro Romanini, Prometeogallery of Ida Pisani, Milano
-Do Ut DO, curated by Andrea Villiani, parco archeologico di Pompei, Pompei
-Ritmo Bodoni, curated by Claudia Borrelli and Mario Francesco Simeone, Castiglia di Saluzzo (CN)
-Miart, Prometeogallery, Milano
-Arco Madrid, Prometeogallery, Madrid
-Artefiera, Prometeogallery, Bologna
-Artissima 2019, with Prometeo gallery of Ida Pisani, Turin, Italy
2018
-The call Cthulhu, curated By Lorenzo Benedetti, Pallazzo Mazzarino, Manifesta 12 collateral, 2018, Palermo
-Raid Corleone, 2018, Corleone
-Lucca Art Fair 2018, Prometeogallery, Lucca, 2018
-Evidence, a new state of Art, curated by Alessandro demma, National Gallery Tiblisi, Georgia, 2018
-Miart 2018, Prometeogallery, Milan, 2018
-Perchè il cielo è di tutti e la terra No?, curated by Giuseppe Stampone, the Pool Gallery Milan, 2018
-Premio Nazionale della Grafica Santa Croce sull'arno, curated By Ilaria Mariotti, Santa Croce sull'Arno,2018
-Evidence a New state of art, curated by Alessandro Demma e Su Peng, Castel Sant'Elmo, Napoli, 2018
-Ideal-Types, curated by Alfredo Cramerotti at He.Ro gallery, Amsterdam, 2018
-Arte fiera Bologna, Prometeogallery, 2018
--Artissima 2018, with Prometeo gallery of Ida Pisani, Turin, Italy
2017
- Arte fiera Bologna, Prometeogallery, 2017
-Raid, museo per piccioni, Bologna, 2017
-Miart, Prometeogallery, Milan, 2017
-Raid, sfornare mondi, Milan, 2017
-Lucca ArtFair, Prometeogallery,Lucca, 2017
-Disio, nostalgia del futuro, a cura di Antonello Tolve,Caracas, Venezuela, 2017
-La memoria e l'oggetto, a cura di Alessandro Demma, Certosa di San Giacomo, Capri, 2017
-Watch the line while crossing, a cura di Alessandro Romanini, chiesa di San Matteo, Lucca, 2017
-Artverona, Prometeogallery, Verona, 2017
-Artissima, Prometeogallery, Turin, 2017
2016
- Arte fiera Bologna, Prometeogallery, 2016. Vincitore premio Rotary Valle della Samogia( best installation), 2016
- Show at Castiglia di Saluzzo, nuova Permanente, a cura di Alessandro Demma,2016
- Miart, Prometeogallery, 2016
- Art Brussels, Prometeogallery, 2016
- Pelle, cureted by Fondaco,Brussels , 2016
- Biennale del disegno, cureted by Alessandra Bigi Iotti, Marinella Paderni, Massimo Pulini, Giulio Zavatta,FAR fabbrica Arte Rimini, 2016
- Dipingere il presente, cureted by Alessandro Demma and Fang Zhenning, Peninsula Art Museum Weihai, Cina
-Artissima 2016, with Prometeo gallery of Ida Pisani, Turin, Italy
2015
- Maretti price, selected by Eugenio Viola, from 26 November to 30 Dicember, Centro de Desarrollo de las Artes Visuales, La havana Cuba
- Artissima 2015, with Prometeogallery, Turin
- Con i piedi fortemente poggiati sulle nuvole, a cura di Antonello TolveMuseo Michetti / Comune di Francavilla al Mare (PE)
- "How to collect political art", curated by Jota Castro, summa art fair, Madrid
- Dipingere il presente, curated by Alessandro Demma and Fang Zhenning, Certosa di S. Giacomo, Capri
- The Flags, curated by Elena Forin e the rete art project, serra dei giardini, Venezia
- OPEN MIA, curated by Stefano Raimondi e Mauro Zanchi, Bergamo
- Miart, Milano with Prometeogallery by Ida Pisani

2014
- Artissima 2014, Turin, PrometeoGallery by Ida Pisani
- Art Brussels, Prometeogallery by Ida Pisani
- Crucis Splendor, Galleria Civica di Potenza
- Miart, with Prometeo gallery of Ida Pisani Milano

2013
- Le ragioni della pittura. Esiti e prospettive di un medium, curated by Laura Cherubini and Eugenio Viola, Palazzo de Sanctis, Castelbasso, Teramo, Italy
- Errors Allowed, curated by Manuela Valentini at Mediterranea 16 Young Artists Biennial, Ancona, Italy
- Art Brussels, Prometeogallery by Ida Pisani
- Miart, Prometeogallery by Ida Pisani
- Bologna ArtFair, Prometeogallery by Ida Pisani
- palazzo Poggi, Arte fiera off, cureted by Manuela Valentini, Bologna
--Artissima 2013, with Prometeo gallery of Ida Pisani, Turin, Italy

2012
- Fabbrica del Vapore
- Disorder, curated by Cantieri D'arte, Milan
- Artissima 19, Prometeogallery of Ida Pisani, Turin
- Premio Cairo, palazzo della Permanente, selected by Eugenio Viola, Milan
- Disorder, curated by Marco Trulli at Worl Event Young Artist, Nottingham
- Premio Combat, Museo civico G. Fattori, ex granai di villa Mimbelli, Livorno
- Project for Castel Sant'Elmo, Naples
- Palazzo della Cultura Taranto
- Centro d'Arte Contemporanea Open Space, Catanzaro

2011
- Symbiosis, XV biennale de la mediterraèe, MACRO, Roma
- Artissima 18, Prometeogallery by Ida Pisani, Torino
- Symbiosis, XV biennale de la mediterraèe-Thessaloniki (Greece)
- Nello stesso Luogo, nello stesso Tempo, curated by Marco Cecchetti, ex mercato delle erbe, Macerata
- Miart now, Prometeo Gallery by Ida Pisani, Milano
- Racconti d'Italia, curated by Annarita Scivittaro, galleria pubblica Mirionima, Macerata
- Vienna art fair, Prometeo Gallery by Ida Pisani, Vienna
- Ma quale tra tutti i mondi è il più esclusivo? Curated by Antonello Tolve, Archivio dell'Architettura Contemporanea - ex Museo del Falso, Salerno
- Artday 2, curated by Franko b, terminal, Macerata

2010
- Arte Italiana a Fukuoka, curated by A. Maugeri, toyata space, Japan
- The Wall, curated by Matteo Bergamini, spazio f. a. c, Milano
- Biennale del libro d'artista, curated by red03 contemporany at gallery Barcellona
- Ca va sans dire, curated by Michele Carbonari, sala polivalente, Cupra Marittima
- Artday, curated by Franko b, Terminal, Macerata
- Pilota, curated by Marco Pezzotta e Scatola Bianca, on the road, Berlin
- Private flat, curated by Matteo Bergamini, Firenze
- Artissima 17, Prometeogallery by Ida Pisani, Torino
- Premio celeste, Fondazione Brodbeck, Catania
- Long Live Romance, curated by Franko b, Montecassiano (mc)

2009
- Low, curated by Scott Ian Ray, Leather Archivium and Museum, Chicago (USA)
- Parallel World, curated by Dovrat Meron, collateral event, 53 Biennale di Venezia , Scalamata Gallery, Venezia
- Scomposizioni, curated by Ivano Quintavalle, Pinacoteca Palazzo Lazzarini Morrovalle - Macerata
- Omaggio a Duchamp, curated by Fabrizio Caleffi, Sanpietroburgo, (Russia)

2008
- Artika, curated by Nicola Alessandrini e Artbox, Palazzo Venieri, Recanti
- Premio internazionale di scultura E. Mannucci, Arcevia - Ancona
- ArtiKA due, curated by Artbox, Palazzo Venieri Recanati
- Ask, curated by Scott Ian Ray, Leather Archivium and Museum, Chicago (USA)

2007
- Talenti Di Marca, curated by P. Benvenuti e M. Vitangeli, Mole Vanvitelliana, Ancona
- Pitti Uomo, a cura dell'azienda Tombolini, Firenze
- Premio Cupra, Cupra Marittima AP
- Mcart-Spazio Grotte, Accademia Belle Arti, Macerata
- Action 2b, performance per camera, Terni
- Action 2b, performance, Decadence, Bologna
- Resistenza, curated by Daniele Storti, TPO, Bologna

2006
- Incisioni e Calcografie, Spazio Mirionima, Macerata
- Action 9, performance per camera, Amelia-Terni
- Action 1b, performance per camera, Macerata

2005
- Chiuso dentro, curated by Andrea Rapace, ex carceri Jesi
- Action 8, Performance per camera, Macerata
- Premio nazionale delle Arti, Roma

2004
- Giovani Artisti per Ancona, curated by P. Benvenuti, Ancona
- JUN&242, S. Severino Marche, curated by Leonardo Cingolani
- Forme Libere in Libera Espressione, Comunanza di S. Benedetto
- Ex Carceri, curated by Andrea Rapace, ex carceri Jesi
Premi | awards
2016: vincitore del premio rotary arte fiera bologna
2015: Premio Maretti, La havana Cuba
2012: Premio Cairo, Milano
2012: Artista finalista Premio Combat-Livorno
2010: Artista selezionato finalista Premio Celeste Fondazione Brodbeck Catania
2008: Artista Selezionato al Premio internazionale di scultura E. Mannucci, Arcevia (an)
2005: artista selezionato al premio nazionale delle Arti Roma
2005: primo classificato premio cupra, cupra marittima (ap)
2004: premio cupra marittima (ap)
2003: premio G. Maggese Bari
Pubblicazioni
- Exibart web
- Il podio di via ventura
- Catalogo Artissima 2014
- Catalogo della mostra, Tempo imperfetto, a cura di Stefani Zuliani e Antonello Tolve
- Catalogo le ragioni della pittura, Maretti Editore
- Catalogo Crucis Splendor
- Catalogo Arte fiera
- Catalogo Miart 2013
- Catalogo Artissima 2013
- Catalogo mediterranea 16
- Catalogo premio cairo 2012
- Arte mondadori mese di settembre 2012
- Catalogo Premio Combat
- Arte mondadori mese di luglio 2012
- Disorder,show catalog,Nottingham 2012
- Symbiosis catalogo della mostra al Macro Roma
- Symbiosis catalogo della mostra Thessaloniki
- Arskey n.2 a cura di Antonello Tolve
- Nello stesso Luogo,nello stesso Tempo catalogo della mostra Macerata
- Teknemedia: recensione di Artissima 17
- Babilonia brucia,a cura di Matteo Bergamini,catalogo mostra Firenze
- Premio Celeste 2010 catalogo mostra Catania
- Ca va sans dire catalogo della mostra Cupra Marittima (AP)
- Contaminazioni,catalogo della mostra Personale
- Premio Edgardo Mannucci catalogo della mostra
Residenze
- Nel Mare ci sono Ancora cose belle, Residenza a cura di Lorenzo Benedetti, 2016, Potenza
- Fabbrica del Vapore, 2012, Milano
- Long Live Romance, 2009 , ex monastero delle clarisse Montecassiano, a cura di Franko b